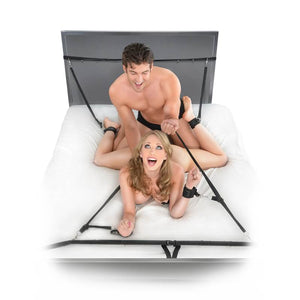 ULTIMATE BED RESTRAINT SYSTEM
Transform your bed into a passion playground with the Ultimate Bed Restraint System.  This easy-to-install bondage set is all you need to enjoy a night of fetish and fun in your bedroom, using the bed you already own!
This versatile restraint system features two large nylon straps that wrap around your headboard and footboard and connect to 4 tethers and cuffs. Each tension strap features 6 metal d-rings that allow you to clip the tethers anywhere you want, creating elaborate bondage scenarios without tying knots or using hardware.  The kit can be used with any size bed or mattress and sets up easily in minutes.
It's perfect for beds without bed posts and can be used on couches as well.  The four adjustable nylon tethers feature sturdy metal clips that connect to the tension strap d-rings on one end and adjustable cuffs on the other.  Simply slide the tension strap around your headboard, pull the strap until its tight, then close the self-locking clamp to keep the strap in place.  Repeat the same steps with your footboard and you're ready to enjoy a night of light bondage play.
The cuffs easily adjust to fit your wrists or ankles, allowing you to explore new positions you never thought were possible.