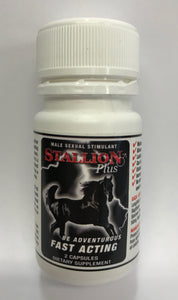 STALLION PLUS SEXUAL STIMULANT
2 Pack
Stallion Plus is a safe alternative to chemical stimulants which will boost your senses to a new level of sexual delight.
Take 2 capsules about 60-90 minutes prior to intimacy.  Can be taken with a reasonable amount go alcohol.
CAUTION: Do not take more than 2 capsules within 24 hours. Not recommended for people with serious medical conditions such as angina or very high blood pressure.