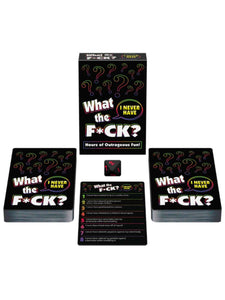 WHAT THE F*CK?
The classic "I Never Have" drinking game with What the F*ck? style questions.
Players take turns making What the F*ck? I Never Have statements and those who have, take a drink.  When you believe players are not admitting to something F*cked Up that you know they've done, you get to coerce them into taking their drinks.
INCLUDES: 69 cards with 552 I Never Have statements, 1 rule card and an 8-sided die.
For 3 or more players